Capital Medical Society - 54% of Respondents Favor National Health Insurance
Twenty-seven per cent of respondents said they favored a national health insurance program to fix the countries health insurance woes. To read the compete study and view the survey instrument (the same used in a recent national survey that showed 59% of physicians favoring NHI) click here.
---
To provide input to the transition Obama transition team, go to: www.change.gov Pull up Health Care, where you will find the Obama-Biden plan which calls for continuing to use existing private insurers. There, click on Submit Your Ideas, where we can push for Single Payer, Universal Coverage, as contained in HR676.
---
This Frontline PBS program visits England, Japan, Germany, Taiwan, and Switzerland. Through interviews with various physicians, administrators and patients, it compares the healthcare systems of the five countries to the U.S healthcare system.
Click here to watch Sick Around the World.
---
San Francisco protest of America's Health Insurance Plans.
---
Click here to view Dr. Mathew's remarks from the Health Care for Americans Now (HCAN) press conference, that occurred on July 8, 2008.
The movement for health care reform got a push locally this week when the Leon County Democratic Executive Committee (DEC) unanimously endorsed a resolution supporting single-payer / H.R. 676.
Click here to read the press release and resolution
---
Click here to read the June Newsletter.
---
On July 30, 2008 we celebrated the 43rd birthday of Medicare and asked Congressman Allen Boyd for his support in extending Medicare to all, through H.R. 676. Click here to view remarks from this event.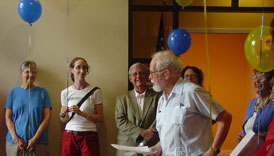 ---
Ray Bellamy, M.D.
With over 30 years of private practice, Dr. Bellamy is all too familiar with our failed healthcare system. With daily reminders of patients not being covered for certain procedures and with the hassle of lengthy paperwork, he believes that there needs to be a significant movement in healthcare.
Click here to learn more about the Capital City Chapter's co-chair.